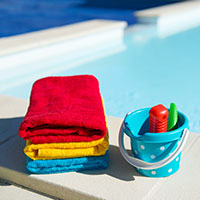 To keep the pool open during the COVID-19 restrictions, residents will have to follow these rules:
Bring your own chairs. All pool furniture is being removed and stacked. All tables will be covered. They must be cleaned after every use and we cannot guarantee they will.
There will be 4 sanitizer stations. If you don't like the scent of ours please bring your own.
No guests permitted. There is a capacity limit the state has put on us. No more than 55 people within the fenced in area of the pool and no more than 31 people in the pool at any one time.
The water fountain will be covered since it cannot be sanitized after each use.
To maintain 6 ft spacing in the bathrooms, one sink in each bathroom will be covered and one urinal in the men's room will be covered.
NO ALCOHOLIC beverages or glass (as always) is allowed.
Anyone that wants to use the pool will sign a legal Release of Liability to use the pool. This is mandatory to gain access to the pool. The Release of Liability form is being used by numerous pools in the Carolinas.
You will be responsible for 6 foot spacing.
LINWOOD FARMS POOL COVID-19 Restrictions