Volume 7, Issue 12 | December 2014 | Visit Our Website | Forward to a Neighbor
DO NOT REPLY TO THIS MESSAGE | Contact the Board
News from the Board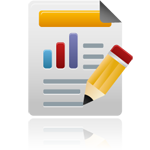 On behalf of the Board of Directors, we wish all our residents a Merry Christmas, Happy Chanukah, Happy Kwanza and Happy New Year. As you may have noticed there has been a tremendous amount of activity going on at the pool. Both the main and kidding pools have had their surfaces scraped down and resurfaced with Fiberglas. The old tile in both pools have been replaced with new tile. Some of the trees, as well as, shrubbery has been removed and replaced with a more landscaped design. Thanks goes out to Susan Kinahan, Chairperson of the Landscaping Committee, for all her efforts in working with the landscaper. She has additional plans for other areas in the months to come.
Hopefully, everyone has noticed the new lighting by both of our entrances. Our Landscaper found a conduit with irrigation wires that were not being used and managed to run electrical power under the road to the side that had no power. This saved us roughly $15,000 if Duke did it and another $10,000 in repairs to our irrigation system, landscaping and homeowners property if lines had to be run from a nearby transformer. We used low voltage LED lights that will last for many years to come and draw very little electrical power.
We know that those unsolicited newspapers that are left by carriers at times are a nuisance, but we ask that you please pick them up and if you have a house by you that's not occupied please pick those up as well, it'll make our community a lot nicer looking. We do have some residents that take care of some of these houses and we do appreciate it. It's unfortunate that the banks that own these premises don't and we're constantly searching for ways to get them to take responsibility for them.
Reminder, that holiday decorations are to be taken down about a week after the celebrations. The Social committee is having its annual Outdoor Decoration contest and will award those houses that they've judged to be winners by the time that this newsletter has been sent out. Please consider joining one of the committees in our community, to help make Linwood Farms the community that we can be proud of.
From the Landscaping Committee
We hope everyone has been enjoying this spring like weather in December.  With the weather staying so warm we have been able to tackle many landscaping projects beginning with the new landscaping lights at both entrances. With the Holiday season well on its way, some of the lenses on the lights were changed to red and green. The remainder of the lenses are on backorder and will be in place any day now.
The next major change has been to the landscaping around the clubhouse and parking lot. The trees lining the street have been trimmed so residents will no longer need to step out of the way of the low branches. We have also removed the dead and overgrown plants in front of the clubhouse and by the parkinglot.  These plants have been replaced by some new and colorful perennials and shrubs which include roses, hemerocallis and buddleia . We are looking forward to the spring when these plants start blooming.  As you can see from the before and after pictures below, our clubhouse has had a huge transformation.
The sprinkler system has been also been repaired and updated to reflect the new plants and fresh mulch has been laid to dress up the flowerbeds.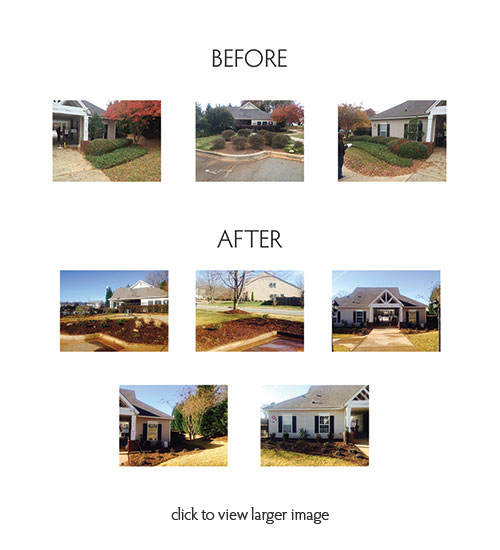 At this time we do not have any current projects but we are always looking for fellow gardeners who would love to volunteer. Even if you do not have a green thumb, we would still love for you to help. Please email the landscape committee with your name and phone number for future projects.
Wishing you a very happy and healthy holidays,
The Landscaping Committee
UPCOMING EVENTS | FORMS & DOCUMENTS | MESSAGE BOARDS
This message was sent to you because you joined the HOA mailing list through the web site using a double opt-in feature. The Linwood Farms HOA is completely opposed to SPAM, and will not send you unnecessary frivolous emails. You will only receive Monthly News and messages from this list when the Home Owners Association, Board of Directors, or Association Committees feel there is an an announcement or issue that needs your attention as a homeowner in Linwood Farms.