News from the Board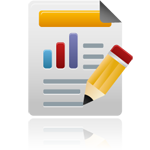 School is in session and the summer is drawing to a close. We are planning on closing the pool on Monday, September 30th. If it looks like we are heading for cooler weather the week before, the pool will close earlier. Please put your key fobs away in a safe place for the winter. We've had too many misplaced key FOBS this past summer. The Board along with the pool chairperson will be evaluating the past season and seeing what needs to be done for the 2014 season. If you have any suggestions, make them on our website, either under the Board Section or the Pool Section comment area.

Now that the Fall Season is upon us, we need to start with winter preparations: power washing, removing mold, painting faded shutters, aerating the lawns for spring growth, fertilizing, lime and seeding. As you know, this is the best time to start establishing new lawn growth.

We're still getting numerous complaints about parking in the streets. We ask that you be mindful of your neighbors when parking in the street, the roads are narrow and backing out of driveways can be a difficult task for some. Be aware that children are still playing outside, so drive responsibly.

Many homeowners may be cleaning out their garages and homes prior to the winter. To keep our community looking nice over the weekends, we remind you that garbage and recycle cans should be put out no earlier than Sunday evening and removed within 24 hours of pickup.

Social Committee



Dear Spooktacular Residents,
Halloween is right around the corner and we are excited to begin our annual "Neighborhood Booing!" Here's how it works:

1. You may find a treat on your doorstep with a picture of a ghost and instruction sheet. This means you've been boo'ed. Enjoy the treats and prepare to get your spook on!
2. Hang the picture of "I've been Boo'ed" in your window or on your door. This will help neighbors know you've already been boo'ed.
3. Now it's your turn to "boo" someone else. Make 2 copies of the boo picture and instruction sheet and go to 2 neighbors houses with treats ($5 and under). Each neighbor you "boo" should get 2 copies of the boo/instruction sheet along with the treats you sneak on their porch. This way we keep the booing creeping through the neighborhood.
4. Try to be sneaky when booing someone. It's all part of the fun.
5. Remember...chocolates, like vampires, don't like the direct sun!

The Social Committee will kick off this neighborhood event the first week of October. So be careful, you never know who will be boo'ed first!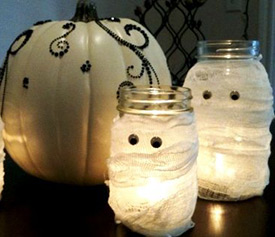 The Pinterest Club is anxious to host its next crafting event on Monday, October 21st at 7PM. Come out and make Mummy and Pumpkin Luminaries. Take this fun project home to light up your porch or fireplace. Listed below are the materials you need to bring with you for this crafting project. You can make either the mummy or pumpkin luminary...or both! It's up to you! We will probably have time to make a few luminaries, so bring several glass jars..

If you would like to join us, here are the details:
Date: October 21
Host: Lori
Place: 183 Golden Valley Dr
Time: 7PM

Materials Needed for Mummy Luminaries:
Gauze or cheese cloth
Double sided tape
Clean jars (recycle jars from mayo, pickle, spaghetti sauce, etc.)
Googly eyes or black construction paper or felt (for eyes)

Materials Needed for Pumpkin Luminaries:
Orange tissue paper
Mod Podge
Foam applicator for Mod Podge
Black felt or construction paper (for face)
Glue or double-sided tape
Clean jars (recycle jars from mayo, pickle, spaghetti sauce, etc)

Got Questions? Email Lori at: Lstewart71@hotmail.com A Courtesy RSVP is not required, but helpful so we can set up enough tables. Just email Lori.


Upcoming Events


Pool Closes - September 30

Booing Begins - October 1

Pinterest Club Meeting - October 21, 7 PM

IMPORTANT REMINDER

DO NOT REPLY to the email used to send this newsletter. That email address has nothing to do with the HOA management company or the Board. To contact your Board of Directors please use the form on the site, and remember that you cannot be identified for any records by your email address. You need to at least provide a full name and preferably a street address to be identified.

CLASSIFIED ADS

Computer Support Services: Virus Removal, Data Recovery, Wifi, Printers/ther devices installed, Software/Hardware installs, Laptop parts replaced, Data transfer, System set-up, Small office/home networks configured, System cleaning. Call: (704) 402-9421 or EMAIL


Handyman WANTED: Seniors have need of a helping hand now and then in Linwood Farms. If interested, call or email (704) 662-8560 EMAIL


20" Bicycle For Sale. 20" bicycle w/training wheels. Needs rear tire replaced. $15.00. CALL: (704) 799-7678 if interested.


This section is for residents only. Would you like to place a FREE classified ad in our newsletter? CLICK HERE to fill out the form. Deadline for submissions is the 17th of each month.

Committee News
Architectural Review Committee

This month our Committee has no news to report.

Email the Architectural Review Committee

Landscape Committee

This month our Committee has no news to report.

Email the Landscape Committee

Pool Committee

This month our Committee has no news to report.

Email the Pool Committee.