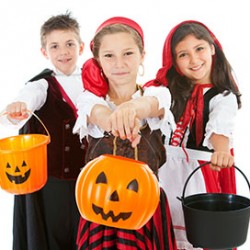 Saturday, October 31st – Just a reminder that our little goblins will be flying around our neighborhood on Halloween night. It has been customary to turn on your porch light if you wish to hand out treats to the trick-or-treaters. If you aren't, please consider turning out your lights during trick-or-treat hours. Traditionally, trick-or-treating begins around 5:30-8:30PM. But don't be surprised if some excited little ones begin closer to 5PM. We do ask that families not ring bells after 9:00PM.
Quick Safety Tips:
Keep your porch and sidewalks clear of objects that children and parents can trip on.
Use flashlights or reflective tape on costumes
Make sure costumes do not drag on the ground to avoid tripping
Trick-or-treat with your child or have older children go in groups. Never trick-or-treat alone.
Parents should inspect candy before serving to children
Do not go into people's homes when trick-or-treating (to get candy or to go through a haunted house display)
Never leave lit pumpkins unattended. Consider using battery operated lights instead of candles.